Top 7 Best Balloon Games To Make The Party Memorable
Top 7 Best Balloon Games To Make The Party Memorable
We live our lives in such a monotonous schedule that we crave for moments to enjoy; breathe in the fresh air. For the sole reason that we party on occasions, in achievements and success. And we love to make parties relaxing- with no hardcore planning that will leave you in stress whether it would be executed properly or not. So, the perfect non-stressed party prop is ballooning. It is not just a decorating prop; it can also be a very good play prop as well. Here are the best balloon games to make any of your party memorable.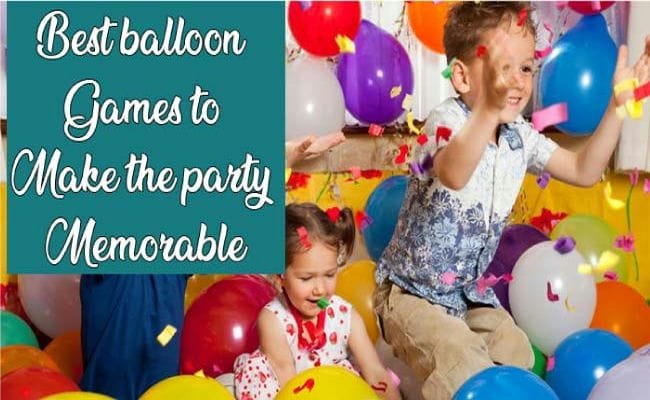 7. Balloon Darts.
Dirt is one of the funniest games for enjoying parties, after being perfectly careful. It is as same as the dirt board but is bigger and is covered with small pouch sized balloons. You will have arrows with which you have to aim and pop balloons. Each person gets 3 chances. Or you can set the timer for 45 seconds. Within time, the most number of balloon poppers will also get a beautiful gift. It would be a very relaxing idea. And you can make it stress-free by gifting everyone something- goodie or a flower.
6. Reindeer antler.
It is a fun prop game. Everyone knows the reindeer antlers. This creature is famous for its horns. This game is to make such horn-like structures with the balloons and has a laughter fight. Two people will be fighting with the antler balloon horns; the first person to pop one balloon of the opponent will be the winner. But, gifts are for everybody so that the essence of the party remains fun and not stressful at all. It is one of the best balloon games for parties to enjoy the fullest.
5. Balloon Cup Shooter.
This is a perfect game for the kids. All you need are plastic cups, balloons, ping pong balls, and tapes. First cut the closed end part of the cup and cover the sharp ages with tapes. Also, tie the balloon on the open end of the cup and stretch it till the cut end of the cup. Then see how the kids will have fun in shooting the ping pong balls. You can arrange a dartboard to help them mark their shots. This would be competitive and helpful for the kid's aim practice. It would be perfect to send birthday balloons online.
4. Tennis With Balloons.
Tennis is a famous game that needs accuracy of reflex, concentration, and aim. But you can make it fun and relax by playing it with a balloon instead of a tennis ball. This is a perfect balloon game if your party is at the back lawn or front porch where there is enough space for a tennis court. It will be real fun. Also, you can order for a balloons delivery online to decorate your party with such lively inflated airy props. It will give the party a very relaxing outlook and would be enjoyable by the guests.
3. Balloon Word Search.
It is similar to a scavenger hunt. There will be words written in pieces of paper and will be put inside the balloons. You can make use of it in two ways- first, you can play dumbs' words where everyone will have to pop a balloon and has to act the action out written in the piece of paper. Or you can give a word and one chance for everyone to select a balloon that might contain the word. The latter one is very tougher. It is better to go to the previous one.
2. Balloon Candy Hunt.
It is again a very funny game for the kids as well as adults. There will be a stack of balloons identified with numbers. Inside the balloons, there will be several things including candies and nothings. So, the guests have to pick up a number from the bowls and that number balloon will be popped. If there is candy, he/she gets it. But, for kids, the candies will be distributed among all. But it is best to keep it a secret to give them a surprise. For this arrangement, you can order balloon bouquet delivery from online sites.
1. Capture The Balloon.
For a camping party, a family get-together and a summer picnic will be the best occasions to arrange for these balloon games. It is perfect for the kids- divide them into two groups, name each group a color. Now to each group member, give a colored balloon of their respective group name. Give each team two minutes within which they have to tag players from other teams and collect their balloons. At the end of 2+2=4 minutes, the team holding the most opposite group color balloons will win the game. Also, this is a good party decoration with a balloon.
Balloons are the life of the parties; put it anyway and it will bring a smile to your face. Above are the best balloon games for the parties.