This might sound strange. But, who says the bathroom is not a place that can inspire a luxurious feeling? All you need are the right luxury accessories or elements.  
Sounds interesting? If yes, please read on for some fantastic ideas.  
4 Elements That Make You Feel Luxurious In The Bathroom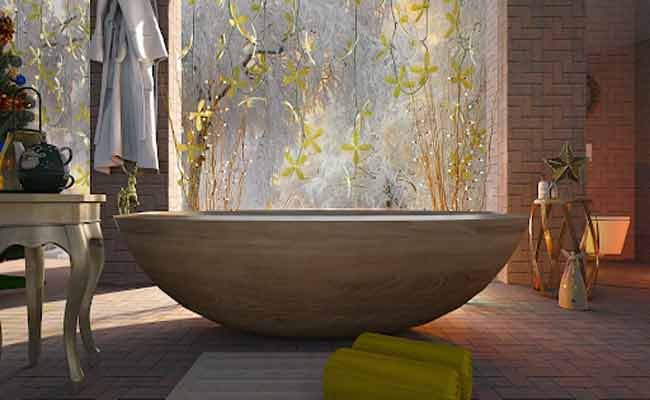 1. Invest In A Freestanding Bathtub
A bathtub is the ultimate relaxation spot. Soak away the tension and stress of daily living in this fantastic invention. 
Do you want the "spa feeling" right at home? All you need is a bathtub and the right accessories. And wait, not just any bathtub.
How about investing some of your hard-earned money in a stylish, sophisticated tub. What are we talking about here? Well, having a clawfoot tub will change your bathroom space.
A freestanding clawfoot bathtub is elegant, and, dare we say, will never go out of style. It is the type of tub you will only see in magazines or top-range hotels.
At this point, you are probably starting to worry about the price a little. If this is your frame of mind, dial back to a peaceful state. The range of styles, materials, and sizes is wide. 
Yes, a copper freestanding clawfoot bathtub will fall in the higher price range. But the same tub in acrylic or porcelain is not as expensive. 
And, don't worry if you don't have space for a shower cubicle. You have the option of a combination of a shower and bathtub. The perfect freestanding tub needs the right accessories. This brings us to luxury element number two.  
2. Luxury Bathroom Accessories
Every bathroom has some common basics. Such include soap, tissue, and toothpaste, paper towel dispensers. But, you will not get the luxury feeling with these items. So, please splurge a little on the right accessories. What are we talking about here?
Do you enjoy a glass of wine as you soak in the tub? Well, invest in a bathroom caddy. You will want a place to rest your glass. The caddy can also hold other knick-knacks you may want quick access to. 

Relaxing scents are a must-have item for that luxurious feel. The

benefits of aromatherapy

. include stress relief, better quality sleep, and help with some specific types of pain. Stock up on essential oils containing lemon, lavender, chamomile, and cedarwood. There are tons of other options so let your imagination run free.

Bathing gels, body wash, and bath salts or crystals

Scented candles and potpourri work great for romantic escapades with your partner

Music brings everything together. So rig up the bathroom or have a portable speaker you can use when you need it. 

Remember the shower, bathtub combination? Don't just buy any showerhead. Some fantastic options will leave you feeling amazing. Rainfall showers will have you singing the 'dancing in the rain' song. Others have features like massage, hard-hitting jets, or even hand showers. Using them will help you relieve muscle tension like you would with a massage at the spa.

Customize your freestanding clawfoot bathtub with additional features. You have options like whirlpools, bubbles, or even jet streams.

Pay attention to lighting

. Nothing will kill the relaxation mood when enjoying a soak in the bathtub like harsh overhead lighting. Mood lighting or dimmer switches can create the right ambiance.

  

To refresh a bathroom shelves unit, add some new lighting. Also, instead of cramming the shelves with random toiletries, make them look and be used as you would in a main living area – keep this for the hidden storage niche. It's also critical that restroom decor complement your overall home style. Attractive bath accessories are luxurious and elegant. Check related site for more ideas.
3. Go Big, Soft, And Fluffy
You have taken an hour-long soak in the tub. There is that warm and fuzzy feeling that you want to hold on to. You step out of the basin and that is where things start to go wrong.
Your floor mat is threadbare and clinging on for dear life. The towel is heading down the same path as your mat. Any softness or fluffiness it once had is long gone.
Ok, maybe we exaggerate a little, but you get the point right? Invest in fluffy, soft robes, bathmats, slippers, and towels. Again, think of a high-end hotel.
Go big if you can afford it. There is something so comforting about a robe or towel that envelopes your body in a cocoon of comfort.  
4. Bring In Some Furniture
Do you have a lot of bathroom space? How about bringing in some furniture. You get functionality, and it adds some sophistication to the bathroom.
Please note, we are not talking about cabinets or vanity. Rather a daybed, wingback seat, or anything that tickles your fancy. It saves you from needing dressing space in your bedroom.
When you get out of the shower or tub, dry yourself with your big, fluffy, soft towel. Of course, you will be standing on your equally fluffy mat.
Now moisturize your body from head to toe, enjoying the lingering heat in the room. The chair will give you a place to sit as you enjoy this little routine.
Finished? Good, now, step into the fluffy robe and slippers, and you are set for the evening. 
Here is another fun idea. Plants will look great in the bathroom. A giant pot next to the furniture will transform the space. Plants bring tranquility and comfort to the setting.
And there is no shortage in the types you can plant. Options include bamboo, Aloe Vera, spider plants, Boston fern, and begonia. A visit to the flower shop will expose you to more varieties.  
One thing you need to keep in mind though is space utilization. Clutter and luxury do not go together.  
Final Thoughts
We have shared elements that make you feel luxurious in the bathroom. They add class, sophistication, and elegance in a space many would not pay too much attention to.
Look at it this way. Why spend money in a spa while you can have the same feeling in your home. And not only at home, but every single day. No more saving up for months to enjoy a day of pampering.
But, it is only fair to say this. The luxurious feeling is addictive and can have you spending a lot of time in the bathroom.
Don't be surprised when the kids jump into the clawfoot tub with you. They may also decide to utilize the furniture and regale you with stories as you relax. And yes, you can only lock them out for so long.